Is there any child who doesn't love jumping on a bouncy castle? We think not!  It's no wonder bouncy castles have become a must-have for every family gathering or function. You can't just rent any bouncy castle you find on the internet, however. It's best to invest in a trusted company with experience and high-quality rentals to get your money's worth.
When it comes to clean and high-quality party rentals in Kennesaw GA, you can count on Uplifting Rentals to deliver. We're excited to introduce top-rated, highest-quality inflatable jump houses, water slides, obstacle courses, interactive inflatables, concession machines, and other miscellaneous items to your party. Call us today whether you're planning a family reunion, a school event, a church function, or a birthday party.
All our units are available in a variety of themes and sizes to fit each event and are hygienic, lead-free, and modern. As part of our commitment to professionalism, our inflatables are washed and carefully inspected between each rental. Our company's mission is to provide Kennesaw with the cleanest, safest, and highest-quality bounce houses, concession machines, and party rentals possible. Uplifting Rentals is sure to succeed at birthday parties, corporate gatherings, sporting events, carnivals, church and school functions, and other family-friendly affairs.
Our bouncy castles are in top condition, have see-through protective meshes, and have been thoroughly sanitized. We also include a variety of wet and dry, inflatable slides in various vibrant colors. You can also rent out one of our licensed inflatables to give your kids a chance to play and have fun with their favorite Marvel and Disney characters.
With our concession machines and add-ons, you'll have everything you need for your next gathering. We'll help you set the right tone for your party with our safe and easy-to-use concession machines. You can sell cotton candy, snow cones, or popcorn if you're having a carnival. Tables, chairs, games, and generators are also available for rent.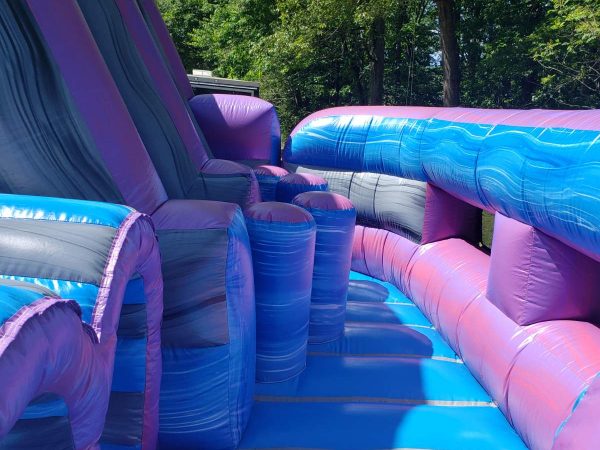 Dunk Tanks and Inflatable Obstacle Courses
Our inflatable obstacle courses are a blast for kids to race around on while engaged in friendly rivalry. Have you ever been to a carnival and seen a dunk tank? Now's your chance to dunk a coworker, manager, or friend in the water! When you choose our company, you are choosing consistency and cleanliness.