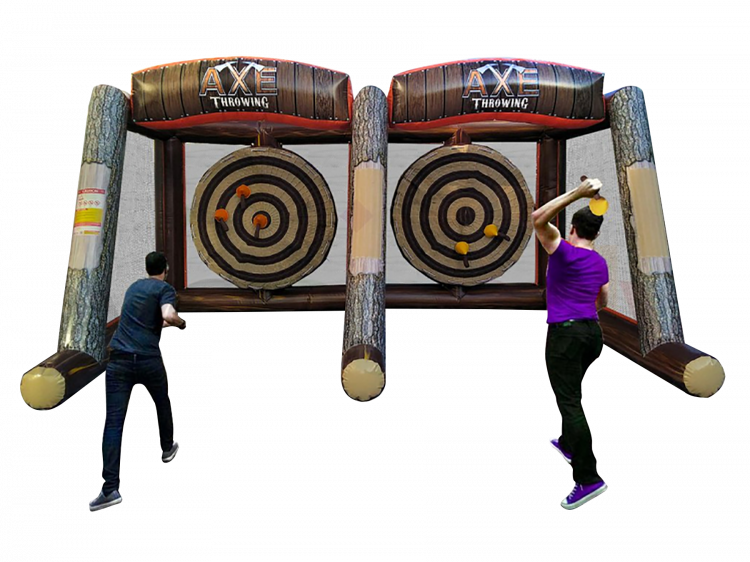 With our complete list of party add-on rentals, your event will be ready to start. When you rely on Uplifting Rentals, creating the right ambience is easy task. We provide plastic tables, folding chairs, power generators, and so much more to make your next party unforgettable. For this reason, we're one of the best party rental companies in Dallas and Metro Atlanta. All our party add-on rentals, Interactives, Water Slides, and Bounce Houses are ready to be used, which are cleaned, and disinfected prior each use.
As a one of the best companies in town, in order to make the process fast and hassle-free for all of our customers we personally deliver all the party add-on rental equipment. Hiring Uplifting Rentals as your next party rentals provider means you're choosing quality and cleanliness. Don't hesitate to contact us for a great party add-on to any birthday party or any kind of event.
These party add-on rentals are a must, whether you need Generators to power your inflatables or tables and Chairs to complete your event – we have all of your party essentials!
Uplifting Rentals is awesome. Our customers agree.
Here are a few testimonials from our satisfied customers:
We had the best experience love love using this company super easy And affordable!!!

Beth Boze


August 30, 2022

We were so pleased with the great service, on time , very friendly people, my son and his friends loved the ax throwing !! It was great! Will definitely recommend... read more everyone and will come back again for sure!! Thank you!!

Natasha Abadie


August 23, 2022

They were very helpful in reaching out and helping to find the perfect inflatable for our needs. They were quick and efficient on delivery and setup. Gave clear and easy... read more instruction on everything and just made things smooth and easy for our daughters 6th birthday party. I highly recommend them. Everyone is friendly and very easy to work with.

shayla roberts


August 23, 2022

Excellent customer service and the kids had a blast on the inflatable water slide. Definitely recommend and will be using again in the future.

Ashley Dodson


August 23, 2022

Great customer service! Couldn't be happier.

Courtney Farnon


August 23, 2022

Set up and pick up was a breeze. Everyone loved the big water slide. We will definitely use them again

Nikki Jackson


August 16, 2022

They delivered an awesome experience for our event. The inflatable and other equipment was in excellent condition and very clean. Cannot go wrong with this company.

Lee Williams


August 16, 2022

Great services friendly employees

calrenee Campbell


August 16, 2022

Amazing experience. Highly recommend. Great customer service and set up

michaela wilkes


August 6, 2022

I was given a great deal for the weekend to rent a bounce castle for my daughters birthday party. The drop off and set up were quick and the item... read more was in great condition. My daughter and her friends had a wonderful time at her party. Definitely recommend this company and will use again!

Leila Diaz


August 6, 2022

Great customer service. Michaela was very helpful. I was stoked when I found out about their weekend special I never heard of any bouncy house that has that service! affordable... read more pricing. Will definitely book again. We all enjoyed the bouncy house

Gabriela Ayala


August 6, 2022

Uplifting Rentals was wonderful! I ordered their dunk tank for a work event and it was an absolute blast !

Taylor Dyer


August 6, 2022

Awesome people to work with! Best customer service! They delivered and picked up! Kept open communication about pick up and drop off!

Ashley Thompson


August 6, 2022

Absolutely loved this bounce house and the company. Let's start with the customer service…. Impeccable! They responded quickly to all my questions and everything was straight forward. The drop off... read more time and pick up time was accurate and the men who set everything up was pleasant as well. The bounce house was the perfect size and all the kids loved it. Will definitely use them again for the next party.

Kaila Palmer


August 6, 2022

We rented the kids combo with the slide and the bounce house for my daughters birthday party. We paid the extra $1 for the whole weekend and definitely got our... read more moneys worth. They came out and delivered it and set it up for us early Friday morning then came back out Monday evening and packed it all back up. We had to do nothing but enjoy it. The kids and even adults loved it. Would definitely rent from them again and recommend them.

Caitlin Simmons


August 6, 2022

I planned my event late and needed a lot and they still provided everything I needed and more. Staff amazing❤❤. This will definitely be my go to place.

Jackie Walker


August 6, 2022

Could not have asked for better service. We had a unique event with tight requirements and they NAILED IT!!! Will definitely use them for all of our future events.

Denika Smallwood


August 6, 2022

Great experience! Uplifting Rentals process is seamless. From deciding, renting, setup and pickup, they were very professional and helpful. My family enjoyed the water slide and begged me for another... read more day. I will definitely use this company again.

Kym Hilbert


August 6, 2022

We had the water slide for 2 days it was great the kids loved it will rent again They set it up and picked it up such... read more convenience

Teresa Ginapp


August 6, 2022

Delivery and setup was very prompt and hassle free, staff is very nice and they communicate well with the customers, also the slide was great. I have used them... read more for the last 2 years and will continue to do so.

Brianna Wilbur


August 6, 2022

So very please with Uplifting Rentals. Communication is great. Price of a WEEKEND rental was unmatched. I called over 8 places and uplifting was the best quote. Arrived, set up,... read more and picked up on time. Would definitely recommend, we will be using them again in the future. My girls party was great because of uplifting rentals. Thank you so much!!!

shannon traylor


August 6, 2022

Our church group had the best event thanks to Uplifting Rentals! We called in late Friday due to an event change last minute, they were very helpful and we were... read more able to get the bounce house we wanted! Delivery and pick up drivers were the absolute sweetest and I can't wait to do business with y'all again!

Taylor Swindle


August 6, 2022

Great customer service service! Friendly! Arrive on time! Clean. Will use again.

BrittandAllen Cunningham


July 6, 2022

Ben and Daniel were very helpful and professional.

Chinonye Ekeocha


July 6, 2022

My company (Sugar Foods) used Uplifting Rentals for our company Employee Appreciation event this past week and I must say the customer service was great! We will be using their... read more organization for any future events we may have.

Ginica Humphrey


July 6, 2022

Will be renting inflatables again with Uplifting Rentals! They have excellent customer service and the inflatable itself was loved by all! Was already asked to rent another one soon 😂... read more and not to mention, the price was excellent for the days we rented. ☺️

Caitlin Newlin


July 6, 2022

Uplifting Rentals was amazing !!! Best experience yet with a rental company , very nice employees easy drop off and pick up !!!! I will definitely use them for any... read more other parties I may have.

madyson dudley


July 6, 2022

On time, easy to work with, courteous and very dependable. Would highly recommend them.

Shane Tarpley


July 6, 2022

We have used them for the past 3 years and will continue to do so. The old glory combo slide was so much fun for everyone at my sons birthday!

Alyssa Combs


July 6, 2022

We really enjoyed the wet/dry inflatable combo. The kids played ALL weekend long, thanks to the extended rental the company offers. We will definitely use Uplifting Rentals again!

Anna Reynolds


July 6, 2022
Our system will verify if we service that area + tell you how much is the estimated delivery fee!
Contact A Kids Party Specialist