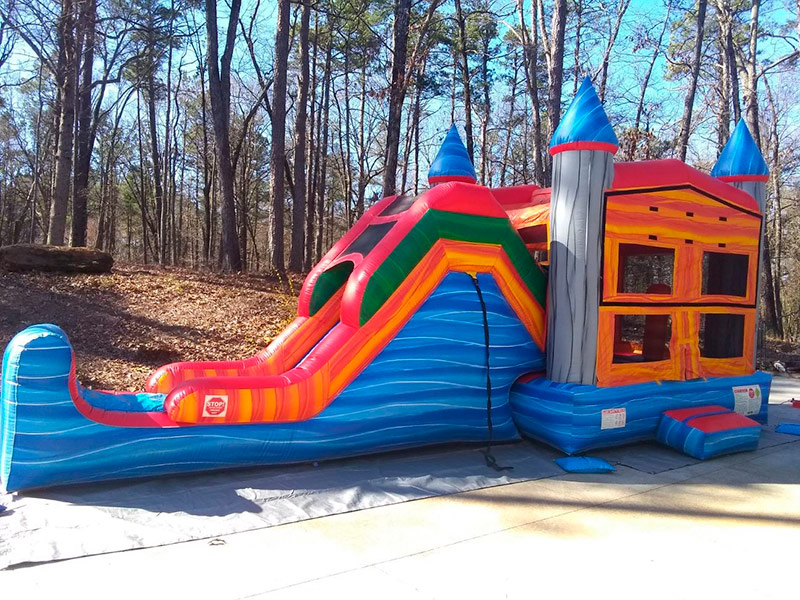 How To Choose an Inflatable
There are a lot of options available when it comes to choosing the right inflatable for your party or event! Here at Uplifting Rentals, we have traditional bounce houses, combo units which consist of a bounce house with an attached slide, slides, and obstacle courses. Beyond the type, there are size variations, color scheme variations, and even quality variations. At Uplifting Rentals, we only purchase commercial grade inflatables! We will never rent a residential use inflatable unit as they are unsafe for commercial use. The differences in commercial and residential safety standards is stark…but we'll save those details for another post. Today we'll discuss the things you should consider when choosing an inflatable for your party or event.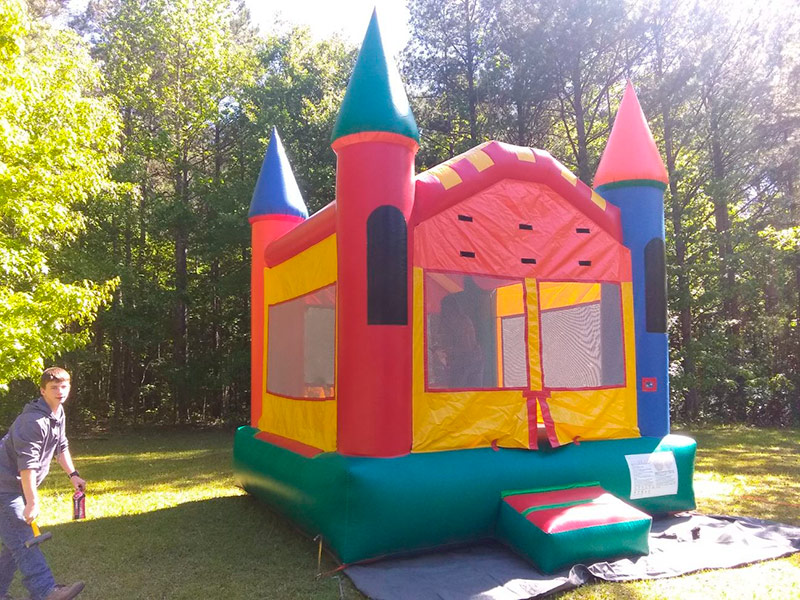 A simple bounce house is typically referred to as a bouncer within the inflatables industry. Bouncers are just as the name describes; they are an inflatable unit that has no slides, no obstacles, just a bouncing platform. These are the cheapest available inflatable option in our stock and in stock for most companies. This classic option is still a tremendous hit and still provides the extra flair that you want for your party. Currently, Uplifting Rentals has only one size of bounce, the primary difference between them being their design and color scheme. All of our bouncers have a play area of 13′ x 13′ with varying heights from different designs. It's not uncommon to see 15′ x 15′ and some get as large as 20′ x 20′. A 13′ x 13′ bounce house typically is suitable for approximately 5 or 6 users at once. The number of users able to jump at once will vary by the size of the users. The smaller your kids, the more that will safely fit, and obviously as they get larger, fewer will be safely allowed. The number of allowed participants is an important factor for the traditional bouncers as they have a shared entrance and exit.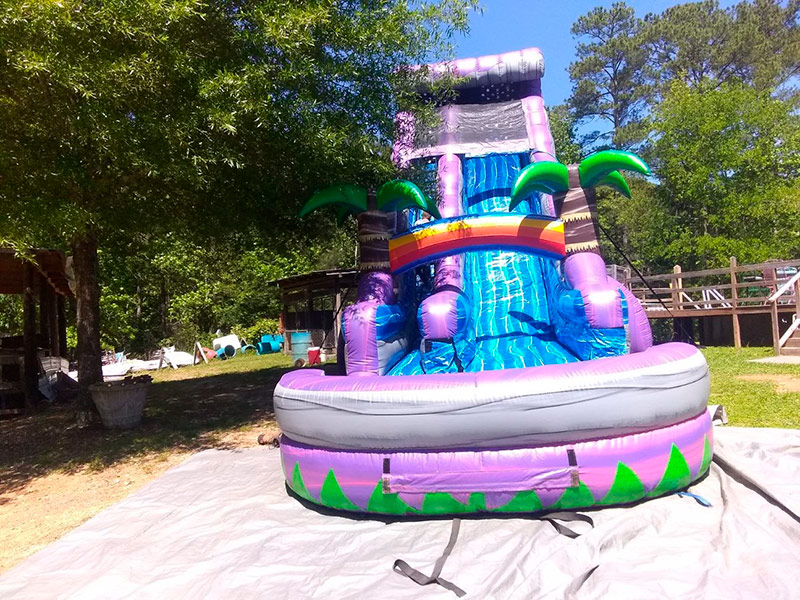 Slides and obstacle courses are best suited for parties aimed at older kids. Many kids grow out of their enjoyment for a traditional bounce house around age 7 or 8, they then grow out of any significant enjoyment from a combo unit around age 11 or 12, large water slides offer excitement you simply can't get from a bounce house and are suitable for most any age so long as usage limits are followed.
All of our slides can be used wet or dry and all of them are larger than the slides on even our XL Combos. Obviously the taller slides generate more excitement, but they do pose more risks as well. While all inflated units should be monitored by an adult, slides should have close monitoring…especially if you have adventurous children that will attempt dangerous maneuvers if left unattended. In the end though, slides are a great addition to the party, they allow for quick repetitive use so a party of almost any size can use without much waiting. Water Slides are very popular in the summertime in Georgia because they're a great way to have fun and cool off a bit in the Georgia heat.
Obstacle courses are very similar to slides in that only a limited number of users can enjoy them at one time. They are great options for all ages, and many end with a slide. Not all of our obstacle courses are safe to use with water, but they are all still very fun!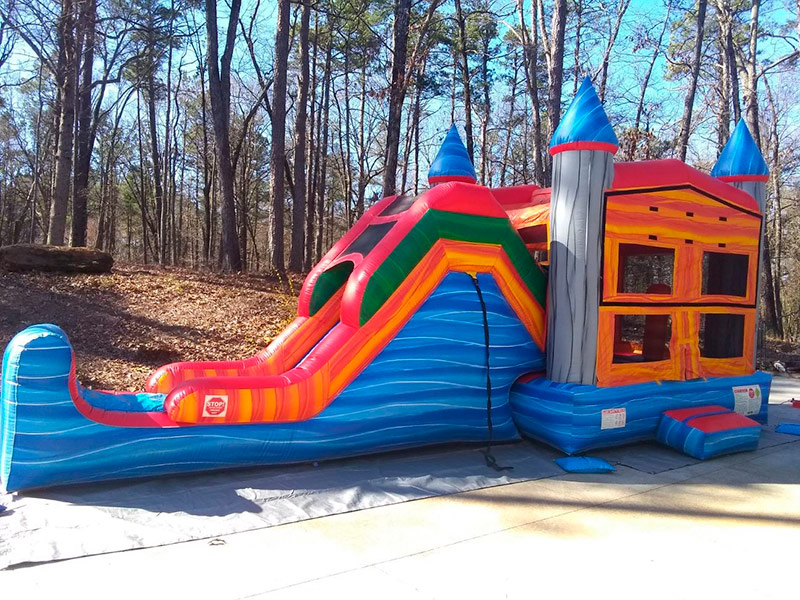 Combo units offer a nice bridge between traditional bounce houses and inflatables slides. These units are certainly a step up from the traditional bounce house as the slide offers a very different experience that your kids will love. The size variations on our combo units (generally) comes from the attached slide. The slides on our XL units are slightly larger than the slides on our Large units which are again slightly larger than the slides on our Medium units. Each of these units come with an attached 13′ x 13′ bounce house play area. Most combos come with some sort of added bonus features such as basketball hoops in the corner or inflated poles/pylon features for the kids to wrestle with or dodge…or just let their imaginations run wild about how to use them. I didn't mention our small units intentionally, our small combo units are quite different as they're designed for use by toddlers and have a very small slide. These units are great for the purpose they serve, but typically would not be much of a hit for older kids. Another major difference is that our small combo units are not allowed to have water on the slides (or in the bounce house). All other size categories are suitable for water usage on the slide (it will end up in the bounce house as well, but should not be sprayed directly into the bounce house).
As discussed briefly in the previous section, the age (or even more importantly) size of the users matters. If your party will include children of different sizes, it would be a good idea to have a plan for how they will be allowed to use your rented equipment. If you have a traditional bounce house, this might mean setting aside different times for the different sized groups. Similarly, in a combo, you would want to adjust by size, in this case though, you could have a continuous flow by having the smallest get out via the slide while the next largest available gets in the main entrance. Your method is up to you, but it is important to remember that children playing in the inflatables together should be close to the same size. The size discrepancy is nearly solved with slides and obstacle courses. They only allow a small number of participants at any given time and generally have their own lanes in which only one person at a time should be using.
Budgeting gets away from choosing which unit you need and into why you should choose Uplifting Rentals! Our pricing includes the set-up and take-down of our units. It includes all accessory items that are necessary to operate your inflatable rental. This includes the anchoring system to secure the inflatable to the ground (stakes on a softer surface or sandbags on a hard surface), the blower, and a 50 ft. heavy-duty extension cord. We do not provide water hoses to the unit, but we do include a hose at the unit that will connect using a standard garden hose. Taxes and in some cases delivery fees are also not included in our pricing.
We proudly service Dallas, Hiram, and all of Paulding County with no delivery/travel fees! In addition, some of the neighboring counties and cities such as Kennesaw, parts of Marietta, Douglasville, Villa Rica, and Temple are all covered in our free service areas too. Some portions of those cities outside of Paulding County may have delivery fees associated.
Besides the price shown on the website, there are some optional add-ons which we offer at a modest fee.
Our first optional fee is our rental protection fee. This fee is a 7% fee which gives you peace of mind to know that if your unit gets damaged in an accidental fashion, then you will not be held liable for the repair or replacement costs. This fee is a standard protection type of fee which does not cover negligence or theft.
Our second optional fee is for a specified delivery window. This fee is best for parks or commercial events where a tight delivery window is required. Most residential deliveries will not need this added convenience. We strive to deliver as close to your event time as possible, but we also have resource constraints that may require delivery up to 5 hours ahead of your event time. This optional add-on fee narrows that window so that you're not waiting for us to arrive (or for commercial events, you're not waiting for the event to start after we deliver). We will provide an estimated delivery time the day before your event and we'll call you approximately 15 minutes before arrival.
The last thing you need to know about our pricing is that we have minimum orders. These minimums adjust with the travel fees. As your event if further away from our location, your fees and minimums will be higher.
That's it, there are no other fees that we feel to be prudent for our services at this time. The company has charged credit card processing fees in the past, but no longer pass those fees to our customers. When you're comparing pricing between companies, be sure to consider all costs and not just the baseline price. The added fees in some cases and by some companies can be rather substantial.
If you're still struggling to decide which unit would be best for your party, feel free to contact us! We're always happy to assist in planning your event so that it is a success. We are available by phone at our listed business hours, but we are available by text or email even outside of our business hours! We do guarantee a response to your questions within 24 hours!
Email: info@upliftingrentals.com
Call or Text: 678-616-2716